"In September 2000, Kevin Hines leapt off the Golden Gate Bridge, a method of suicide attempt that has resulted in death for most of the 2000 people who have made that jump since the bridge was erected in 1937.
But Kevin survived. He survived, and in the 16 years since his nearly fatal try, Kevin has become the bridge between the many mothers, fathers, brothers, sisters, children, spouses, friends, and loved ones who made similar acts. Each doing what they did to put an end to unimaginable suffering—and those left behind, wondering why? What could we have done to help?
Even further, Hines, in sharing his story, is fostering a critical bridge of hope between life and death for people caught in the pain of living with serious mental illness, difficult life circumstances, and more.
His refreshing honesty, realism, advocacy, and appreciation of the complex conditions that contribute to mental illness is a much-needed guiding like through the darkness of societal stigma and discrimination.
I know that each and every one of you will take something away from hearing Kevin's story. He has so many important messages to share about coping and seeking support networks to bolster us through crisis, in order to find the purpose, the meaning in surviving and thriving. In the words of Nietzsche: "He who has a WHY to live can bear almost any HOW". I hope that hearing Kevin's story helps you find your WHY."
Dr. Erica Goldblatt Hyatt, Assistant Professor, Chair of Psychology, Bryn Athyn College, Bryn Athyn, PA
Kevin will be speaking at a lunch and learn event at the Kirkwood Linn County Regional Center in Hiawatha on September 28th from 11:30 AM to 1:30 PM.  This is a free event and lunch is provided.  This event is made possible at no cost due to support from Cedar Rapids HOPEwalk and TransAmerica.
Please register here.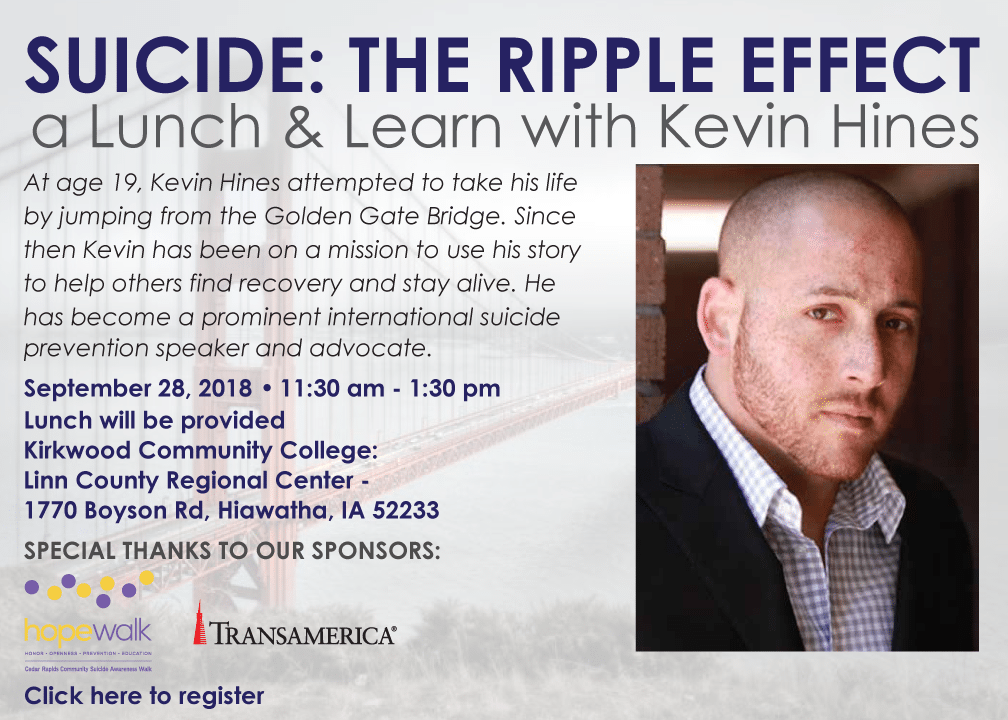 Search
Categories
Archives