We are back in the Crisis Center!
After almost two years of a remote workforce, we are excited to be back in the historical Foundation 2 Crisis Center,  located at 1540 2nd Ave SE in Cedar Rapids. Our team is enjoying being back under one roof – for many, they say it feels "like coming home."
In March 2020, as many workforces were going remote in light of Covid-19, we quickly moved the entire Crisis Center to an at-home work model. This allowed our crisis counselors to work in a lower-risk environment without a disruption in services.
Then, in August 2020, the Crisis Center sustained significant damage in the derecho that hit much of Iowa. The slow process of fixing the damage started soon after. Unfortunately, the following winter, a pipe burst in the empty Crisis Center, causing more damage.
Work continued to restore the building, where we have provided various crisis services for almost 50 years (including, at one time, a youth shelter). Earlier this summer, we were finally able to return our team to the Crisis Center, after more than two years remote. The renovated building retains its historical elements, including porcelain drinking fountains and original woodwork. The team is enjoying the increased opportunities for collaboration, their "favorite workspace," and the newly renovated space!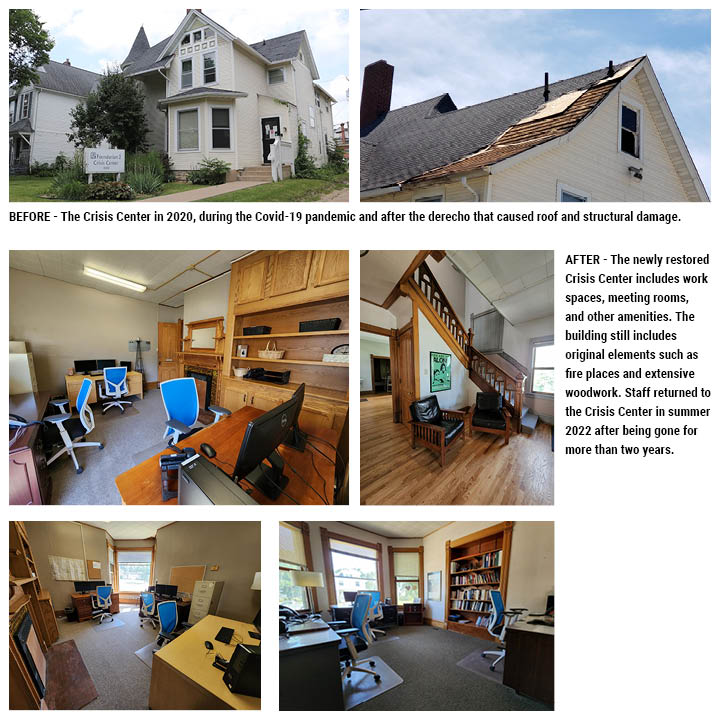 Search
Categories
Archives