Your Trusted Support When Life Gets Tough.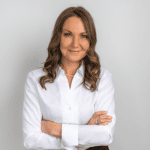 Emily Blomme
Chief Executive Officer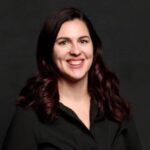 Samantha McGrane
Board President
Welcome.
We're proud to provide you with an update on our transformational year at Foundation 2 Crisis Services.
In our last fiscal year (July 1, 2022-June 30, 2023), our services have expanded to meet the increasing mental health and suicide prevention needs we see across Iowa. We continue to support more people annually than ever before in our agency's 53 year history.
A major achievement in the last fiscal year is the actualization of a long-time dream. In 2018, our strategic plan included intentions to create a centralized space for staff, consolidating many of our seven individual locations. We are so grateful that through the support of many individuals like you, we were able to make this a reality.
We're grateful to have the tremendous support of our donors and so many community partners who allow us to continue to provide high-quality services that are free, confidential, and available 24/7. We're proud to provide you with an update on our transformational year at Foundation 2 Crisis Services.
Crisis Contacts (phone, text & chat)
MCO Dispatches (all providers)
nights of safety at the youth shelter
Young people in Fostering Futures
Emily Blomme – Chief Executive Officer
Erin Langdon – Chief Operating Officer
Matt Heinricy – Chief Financial Officer
Katie Curtis – Chief Development Officer
Drew Martel – Chief Clinical and Training Officer
Thank you for making a gift to Foundation 2 Crisis Services this year.
With your generosity, we were able to be a trusted support when life gets tough more than 90,000 times in the last year. You help ensure our life-changing and life-saving services continue to be free and available 24/7. We sincerely appreciate your partnership. Please see a list of all FY23 donors by clicking the button below.
Thank you to our 2022-2023 Board of Directors
We sincerely appreciate your time, energy and passion for helping support Foundation 2 Crisis Services and the thousands of Iowans we serve.
Samantha McGrane – President
Heather Ries – Vice President
Renee Nelson – Secretary
Ron Hellweg – Treasurer
Theresa Blong
Joseph Conway
Whitney Gehrls
Bryan Mullen
Steve Pace
Michael Rozum
Bob Sanders
Nina Sheller
Hollie Trenary
Alex Trunnell
Tim Vipond
Dale Wirtjes

In October 2022, we purchased the historic Witwer building in Downtown Cedar Rapids and embarked on a $5.4 million capital campaign to create a new headquarters for our agency. We look forward to joining the vibrant Downtown community and know that it will provide ample opportunity to connect with more individuals in need, community partners, and businesses seeking support.
Financials
Income and expenses information for FY22.