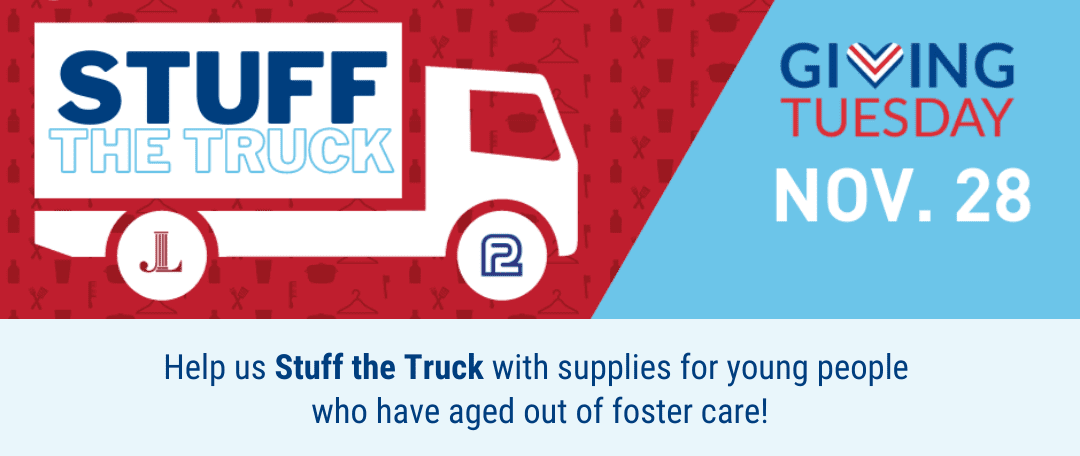 Junior League of Cedar Rapids and Foundation 2 Crisis Services are partnering to serve young people aging out of foster care for our third annual Stuff the Truck fundraiser!
Join us on Tuesday, Nov. 28 between 7 a.m. – 2 p.m. at Craft'd in Downtown Cedar Rapids to 'stuff the truck' with requested basic living supplies to support young people establishing independence after foster care.
You can also drop items at our Administrative Location, 1714 Johnson Ave. NW, Monday through Friday, 8 a.m. to 4 p.m. through Nov. 27.
These items go to fill suitcases with NEW basic living items for these young people as they start adulthood on their own. Each suitcase is valued at approximately $700.
Requested items include:
kitchen knife sets
suitcases
dinnerware sets
toilet paper
paper towels
Kleenex
all-purpose cleaner
dish soap
laundry detergent
queen size comforters
queen size blankets
trash bags
We can only accept NEW items for Stuff the Truck. Thank you for supporting these young people as they start out on their own.
Want to donate from home? All donations to our Giving Tuesday fundraiser will be matched by Alliant Energy, Diamond V, ESCO Group, and Van Meter and Transamerica. You can give on our website or Facebook page on Giving Tuesday.