Law Enforcement Liaison Program – FY21 Annual Report

Law Enforcement Liaison program expands
The Law Enforcement Liaison program is one of Foundation 2's newest and fastest-growing crisis programs, located in multiple law enforcement departments in Eastern Iowa.
When a mental health concern engages law enforcement, our trained crisis counselors respond (sometimes alongside law enforcement) to navigate situations at home and in the community. The counselors help provide individuals and their families with the best resources possible, often including connection to community resources, crisis stabilization, and stabilization at home. Through the Law Enforcement Liaison program, incarceration or hospitalization is not a primary destination for individuals when lower-level intervention is sufficient.
Since the program's launch, law enforcement has seen a decrease in repeat callers as concerns are managed with ongoing community care coordinated through Foundation 2.
Law Enforcement Liaison Contacts
This service is currently available through the Cedar Rapids Police Department, Benton County Sheriff's Department, Marion Police Department, and the Linn County Sheriff's Department. Additional locations are in development.
Snapshot of services through the Linn County Sherrif's Department (May-June 2021)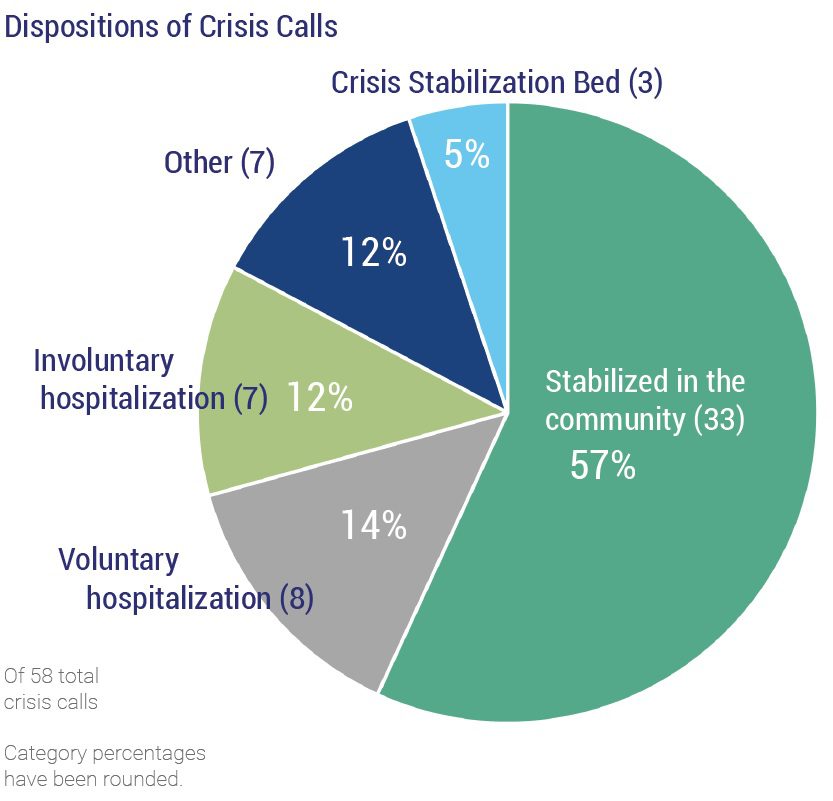 Outcome of 58 crisis calls with the Law Enforcement Liaison through the Linn County Sherrif's Department from May-June 2021.
How We Can Help
An adult with multiple serious mental health diagnoses wandered out alone on a nature trail. They walked until they reached a construction zone, became disoriented, and panicked. They called 911 for support. Guided by dispatch, the Foundation 2 Law Enforcement Liaison was able to navigate through the trail and construction zone and find the client, who was pacing the trail, anxious and scared. The Foundation 2 Law Enforcement Liaison was able to de-escalate the client, build trust, do an evaluation, and transport them to a Crisis Stabilization Bed for continued support.